About Frances Turner
Originally a composer and Baroque violinist, Frances spent 17 years touring and recording with the leading UK Baroque orchestras and ensembles. At the same time she gradually trained as a complementary health practitioner, setting up the Frances Turner Clinic in 1990. She studied acupuncture and Chinese Herbal Medicine at the London Academy of Oriental Medicine and the London College of Traditional Acupuncture, and added these skills to her practice in 1998. She now runs her practice at the Cholsey Complementary Health Centre, in Cholsey near Wallingford, Oxfordshire.
Frances went on to gain a Masters Degree from Exeter University in the English Language of Chinese Medicine, and used this research in curriculum development at the London College of Traditional Acupuncture, where she became a senior lecturer from 2000 until its closure in 2010. She studied herbs in China in 2006, and was Course Director for Chinese Herbal Medicine at the College of Integrated Chinese Medicine in Reading from 2011-2015. In 2014, 2015 and 2016 she completed clinical trainings in Classical Herbalism (Jing Fang) with Dr Feng Shilun in Beijing, and set up the Herb Community Clinic at her Oxfordshire practice to offer a Jing Fang Apprenticeship – a clinical training in the Jing Fang Six Syndrome Differentiation System. The Jing Fang Apprenticeship was officially opened by Dr Feng Shi Lun when he visited in October 2015.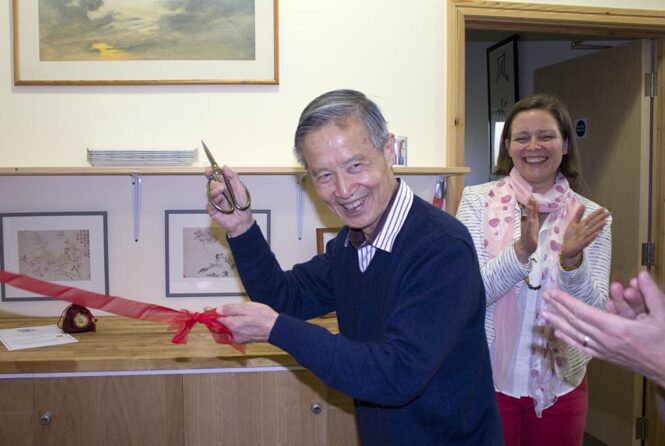 Acupuncture & Herb Education
Persuing her interest in acupuncture and herb education, Frances sat for six years on the Accreditation Committee of the British Acupuncture Accreditation Board and was a member of the Advisory Group for Education and Professional Standards for the British Acupuncture Council. She is currently a member of the Register of Chinese Herbal Medicine, and as well as training students in Classical Chinese herbal medicine (Jing Fang), runs regular seminars including workshops on pulse reading and cooking with chinese herbs.
In 2003 Frances trained in resonance healing with Alice Tierney, and in 2006 brought the healing and music strands of her life together by composing and recording the Song of the Mountains. She still plays the violin, and particularly enjoys playing folk music with friends and family.
The beauty of Chinese medicine is that it is an approach to life. Frances continues to deepen her knowledge and felt experience of the subject, and key areas of interest and personal growth for her are meditation and qigong. She studies dao yin (qi gong) and meditation with Shi Jing at the British Daoist Association and in 2014 took the opportunity to visit Daoist Master Huang Shizhen at Qing Hua Gong in Xi'an. She regularly engages with meditation retreats in the English countryside, which helps her to continue to develop a daoist approach to life.