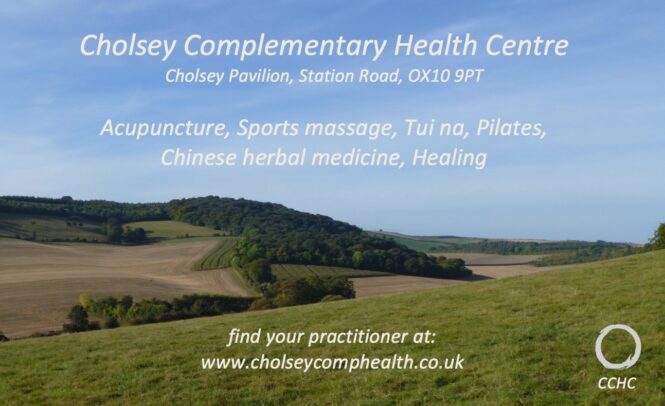 Situated in the Cholsey Pavilion, Cholsey Complementary Health Centre is a clinic at the heart of the village of Cholsey, South Oxfordshire. The health centre opened in July 2013, and offers affordable treatments in complementary health:  acupuncture, Chinese herbal medicine, healing, sports massage, Chinese massage (tui na), qi gong, tai chi, zero balancing, aromatherapy, head massage, foot health, pilates and physiotherapy.


Between us, Cholsey Complementary Health Centre practitioners have over 60 years of experience. We are committed to working together for the benefit of the community, and make referrals between ourselves and outside the clinic as appropriate.
We are fortunate to have the opportunity to work in such a beautiful space, which is healing in itself. The large reception area has room for a Chinese herbal medicine dispensary, and there are two spacious treatment rooms.
Getting there
CCHC is five minutes from Cholsey Station, and there is plenty of parking.
View Google on Map (OX10 9PT) >
Download Direction in PDF >