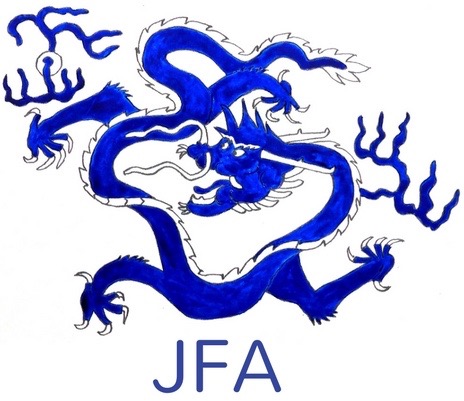 Training in Classical Herbalism
Learn the Jing Fang Six Syndrome Differentiation System
A practical clinic-based approach to the study of Chinese herbal medicine
Flexible attendance by the day, by the term or by the year
Learn herbs in a manageable way
Where: UK Central location, Herb Community Clinic, Cholsey Complementary Health Centre, South Oxfordshire. 5 minutes walk from Cholsey Station.
When: Mondays, clinic in the morning, discussion and/or seminars in the afternoon. Every fourth clinical will be on zoom in two half days, clinical on Monday morning and discussion on Tuesday morning. Attendance is flexible: contact us to arrange what is suitable for you.
Theory component: The theory component of this course is now enhanced by the availability of the Jing Fang Introduction Audio PDF series. This takes you through the herbs and formulas with their clauses in a systematic way, starting with the most commonly used and continuing until all the major formulas are covered. To purchase this series, please contact Frances.
Agreement: Apprentices are asked to read and sign the JFA Apprentice Agreement
Who is eligible: Acupuncturists & herbalists and those with equivalent APEL (Accreditation of Prior Learning). If you are not sure, please do contact us.
Organisation: The Jing Fang Apprenticeship is run by the School of Classical Chinese Herbalism, at Cholsey Pavilion and Cholsey Complementary Health Centre in Cholsey, South Oxfordshire. It was officially opened by Dr Feng Shilun in 2015.
Qualification: On completion of the Apprentice Logbook, Apprentices are awarded a Licentiate in Classical Chinese Herbalism. See photo below of our first graduation, June 2016.
Length of Training: If you attend regularly, it generally takes around 2 years to complete the Apprentice Logbook, but you have the freedom to do it in a shorter or a longer time as it suits you, and depends on both your prior experience and your learning style.
Accreditation: The School of Classical Chinese Medicine has entered the EHTPA accreditation process. This will in due course allow graduates of the Jing Fang Apprenticeship automatic entry to the Register of Chinese Herbal Medicine (RCHM). Until this time, certified apprentices can get insurance from reputable companies, and we support our graduates to gain individual entry to the RCHM.
Supervisors: Clinical Supervisors: Frances Turner,  Anna Morshead, Gail Newton, Neal Kingham. Assistant Clinical Supervisor: Suzanne Mounter
Resources: View the resource list here
"A useful but also very enjoyable way to study Chinese herbs!"
Apprentices at the first JFA Graduation, June 2016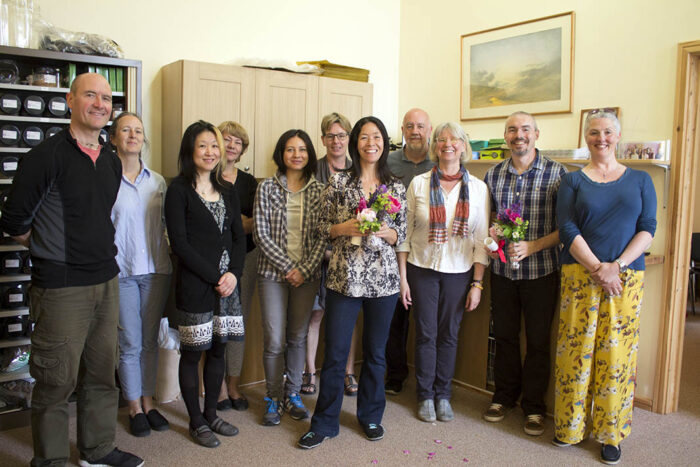 Dr Suzanne Robidoux writing on the Jing Fang Six Syndrome differentiation System in Acu, the Magazine of the British Acupuncture Council.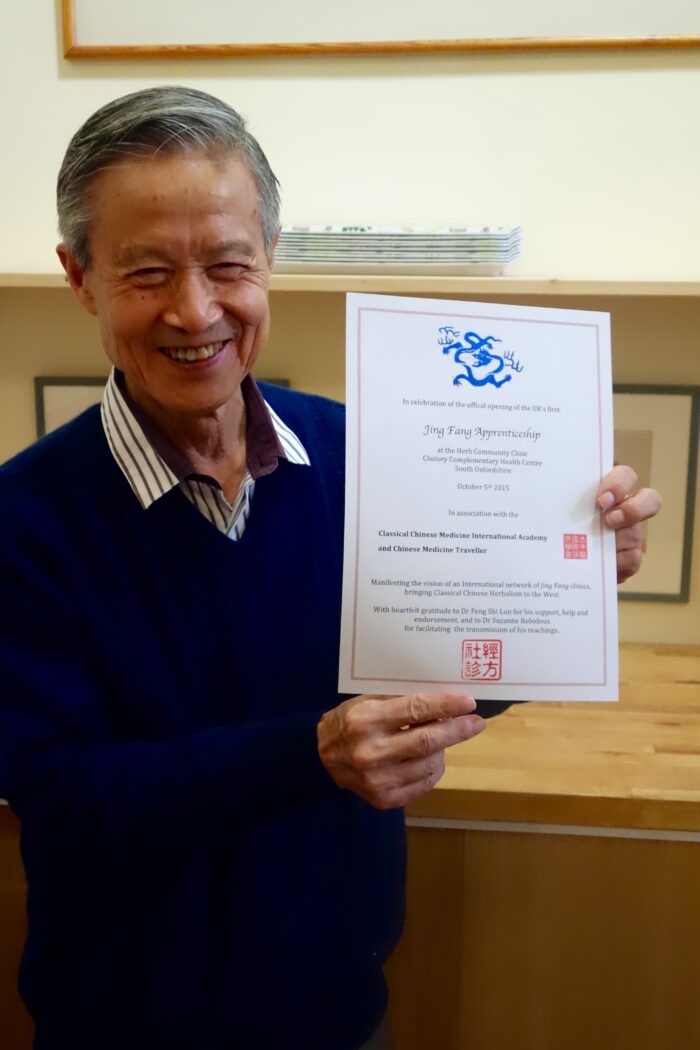 Dr Feng Shi Lun opening the Jing Fang Apprenticeship in October 2015
Data Privacy Notice